About GOES Insurance: Auto Insurance, Homeowner's Insurance & more
Where we came from
Our History
Ted Olson is the official founding father, having opened the doors on the Ted Olson Agency in 1936 in Alta, Iowa, serving clients throughout Alta and surrounding communities.  Twenty-four years later, James Eaton teamed up with Ted and the Olson-Eaton Agency was formed.  Sometime in the mid '60's, Ted retired, ushering in Elmer Svendsen as a new partner, resulting in another name change: OES Agency (Olson-Eaton-Svendsen).  Audrey Gustafson joined OES in 1979 and is still an active contributor to the agency's success.
On January 1st, 2007, Mark and Keila Glienke acquired the agency. It was like a homecoming for them, having grown up in Alta's neighboring towns. Their 10-year old daughter suggested they should place a 'G' in front of the existing OES Agency name.  Taking her advice, GOES Insurance Services Inc was born.
Where we are
We still care enough to make house calls
Today, GOES Insurance is an independent insurance agency handling multiple lines of insurance protection.  Years of developing relationships with the nations' top insurance providers enable us to provide the right coverage for every risk you face as a homeowner, a driver, a business owner or a farmer.  We take pride being able to meet the needs of our clients, however out of the ordinary they might be.  That includes going to your home or business if it's more convenient for you. That's right: we still make house calls!  Getting the coverage you need shouldn't be difficult.  GOES Insurance makes it easy.
As a Trusted Choice Agency, we're dedicated to treating customers as people, not policies.  We've committed to honoring a strict code of performance that includes:
Working with you to identify the insurance and financial services that are right for you, your family or your business and using our access to multiple companies to deliver those products.
Guiding you through the claims process for a prompt and fair resolution of your claim.
Helping to solve problems related to your coverage or account.
Explaining the coverage and options available to you through our agency, at your request.
Returning your phone calls and e-mails promptly and responding to your requests in a timely manner.
Providing 24/7 services for our customers, offering any or all of the following: emergency phone numbers, Internet account access, e-mail and call center services.
Using our experience and multiple company relationships to customize your coverage as needed.
Committing our staff to continuing education so they may be more knowledgeable in serving you.
Treating every client with the utmost respect and courtesy.
Always conducting our business in an ethical manner.
Where we're going
Our Focus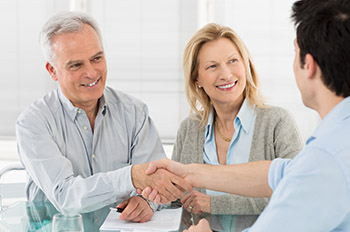 GOES Insurance has a history of evolution.  As our community has grown and your needs have changed, so has our agency.  As a family owned and independent agency, our focus is always on the client.  We have a network of top-rated insurance companies that specialize in a variety of risks, ensuring you get the right coverage at the right price.
Being licensed in property and casualty as well as life and disability, we've reached further in order to provide service that meets regional needs.  Mark became a Certified Insurance Counselor in 2001: a designation that is both nationally recognized and highly respected within the insurance industry, requiring extensive training to acquire.  In order to better serve the local farming community, Mark also earned his designation as an Agribusiness and Farm Insurance Specialist (AFIS).
GOES Insurance continues to welcome innovations within the insurance industry, actively pursuing new ways to increase our efficiency, our product knowledge and continually improving the way we serve our customers.  From examining new insurance products to reviewing the latest software advancements, we make sure everything we do benefits our customers.  After all, service is our policy at GOES Insurance.